Note: FISS 2022 will be converted to purely online and students DO NOT need to come to Shanghai. Thus, no accommodation will be provided this year.
1. International Students Dormitory
Fudan International Students Dormitory is composed of a main building and supplementary buildings. The cafeteria and the Gym are directly behind the International Students Dormitory.

The main building located in the northwest corner of Fudan campus is a 23-story building with 728 rooms in total, including 582 single rooms and 146 double rooms. The lobby of the main building includes a reading area, mailboxes and a 24-hour reception desk service. From the 2nd floor to the 20th floor, each floor is equipped with 2 kitchens at both ends of the corridor. The kitchens are equipped with an induction cooker and an automatic water boiler. All rooms in the main building are equipped with a balcony, an air-conditioner, a private bathroom and Internet access. The main building has elevators.

The supplementary buildings consist of 8 identical 7-story units, which altogether have 448 single rooms. Each floor has two apartments, and each apartment has 4 single rooms, 1 sitting room and 2 bathrooms. Each of the single rooms has a balcony, an air-conditioner and Internet access. Please note that the supplementary buildings have no elevators.

Students with Shanghai Summer School Scholarship can stay at the International Students Dormitory for FISS 2022. Please note that a single room in the main building with a private bathroom is not guaranteed. The quantity and type of dorm rooms provided by the school will be based on the actual situation. Please also note that beddings are provided, but there are no personal toiletries.

2. UNIJIA
(for both foreign students and Chinese students)It is privately-run and provides single rooms and double rooms. The address is 173 Handan Rd. which is very close to Crowne Plaza Fudan, about 8 minutes' walk to the 6th teaching building of Fudan. Please visit the website www.unijia.net for detailed information.
3. Tongzhou Hotel
(for both foreign students and Chinese students)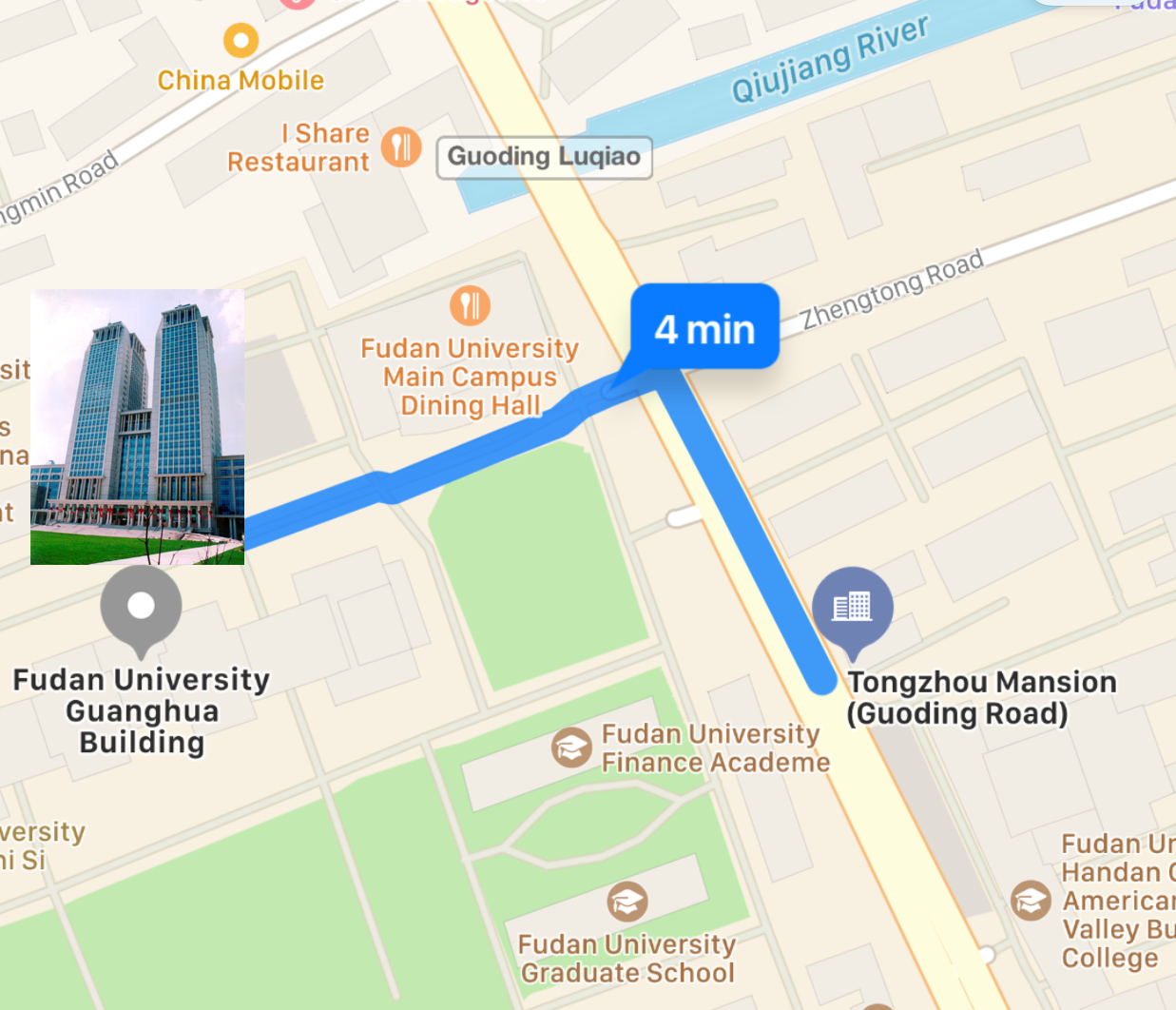 Tongzhou Hotel is a 6-storey building right opposite to the East Gate of Fudan University. The address is 428 Guoding Rd. There are altogether 32 rooms and the room charge of a double room is CNY 200-230 per day. The contact number is 86-21-65110356.

4. Other accommodation options around Fudan

| | | | |
| --- | --- | --- | --- |
| Zhengda Hotel of Fudan | CNY 328-420 per day (Double Room) | 220 Handan Rd. | 86-21-65643941 |
| Yanyuan Hotel of Fudan | CNY 360 per day (Double Room) | 270 Zhengtong Rd. | 86-21-65115121 |
| Hanting Hotels and Inns | CNY 294-341 per day (Double Room) | 2628 Songhuajiang Rd. | 86-21-61434888 |
| Crowneplaza Hotel | CNY 900 per day (Double Room) | 199 Guoquan Rd. | 86-21-55529999 |
Notice: The prices are subject to change and some of the prices are corporate rates.