Fudan University International Summer Session 2020 (Jul.4-Aug.1) will provide a 4-week course study and cultural experience to students from all over the world. The program is now recruiting students from both China and abroad. Students will have the opportunity to get to know China, experience Shanghai and be part of the Fudan community. Fudan University's degree students will also participate in the program. This program will help you achieve multicultural understanding, establish a global vision, and get connected with peers from all over the world.
For the latest information about the covid-19 pandemic and entry restrictions please see here.
Your application fee of 400 yuan and tuition already paid will be refunded as the program has been cancelled due to COVID-19.
Fudan International Summer Session 2020 will provide:
27 content courses in History and Culture, Society and Politics, Business and Economy, Science and Technology, and Law.
3 levels of Chinese language courses (40 credit hours each, optional)
3 PE courses (18 credit hours each, optional)
Historical and cultural visits
The courses will be delivered at Fudan University's Handan campus in Yangpu District.

Timeline (2020)

| | |
| --- | --- |
| Nov. 2019 | Applications open. |
| 1st batch of student numbers | around Jan. 15, 2020 |
| Tuition payment | March 1-June 20, 2020 |
| Course enrollment | TBC |
| Application deadline | May 31, 2020 |
| Registration | 8:30-18:00, July 4, 2020 |
| Check-in at the dorm | July 4, 2020 |
| Orientation and Opening | July 5, 2020 |
Note: Course enrollment for the summer term has been postponed for Fudan University's degree students. Accordingly FISS has also decided to postpone course enrollment to the end of May or June. We will update the website once we have the dates when the enrollment system will be open.

Agenda (2020)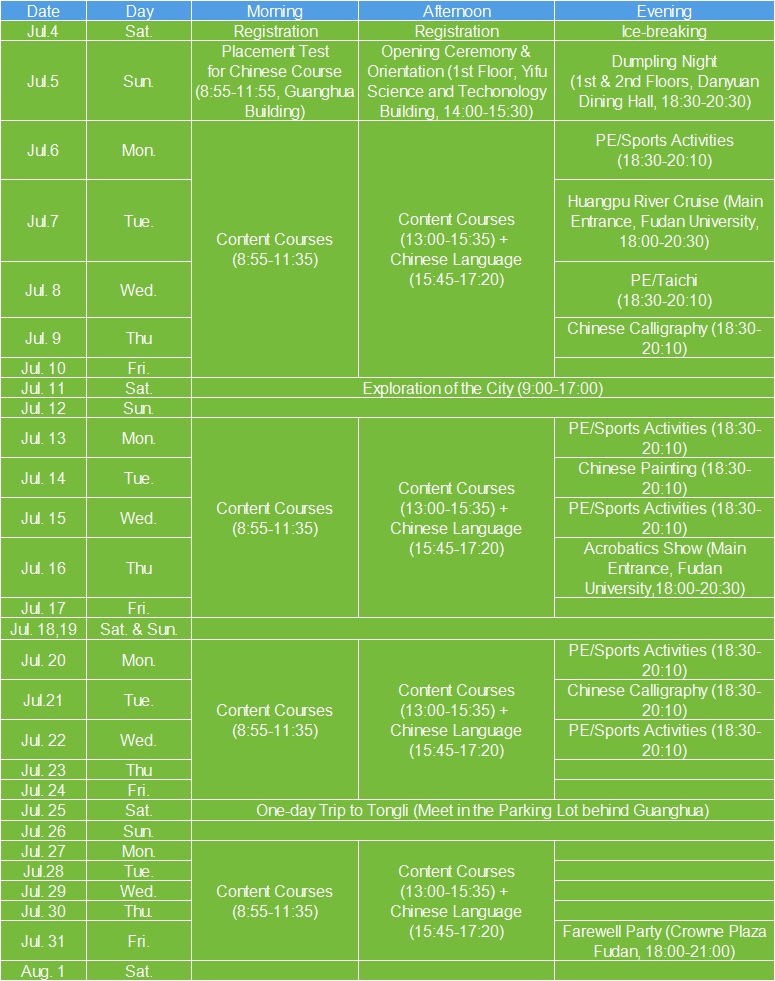 *The placement test is a must for students who plan to choose the intermediate or advanced Chinese language course. However, beginners taking the elementary Chinese course do not have to take the test.
**The Chinese language course is for students holding foreign passports only.
***The cost for the Tongli trip is around 280 yuan. You will pay the tourist agency to join, but the program will pay for the Shanghai Summer School students' Tongli trip.
If you have any questions, please email iss@fudan.edu.cn, or scan the Wechat code of our TA Kevin: